Check out our helicopter banners fly! Currently up to 30,000 square feet and climbing. We manufacture, in-house, our own helicopter banners and billboards. Our helicopter banners utilize the safest banner towing system in the world. Contact us for your helicopter banner ad today!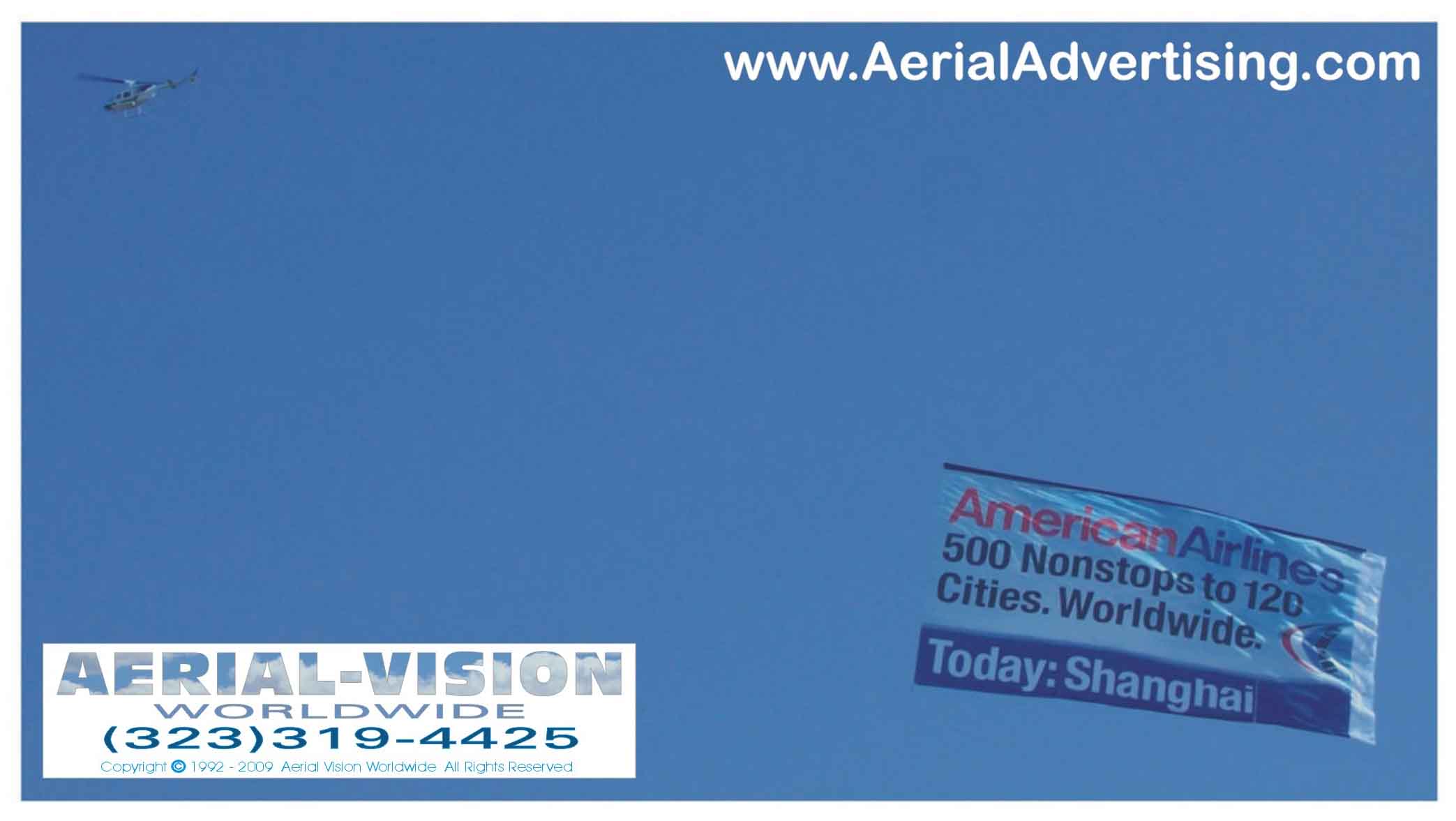 Pictured Above: 75' x 135' with 20' x 65' Changeable City Section 10,000+ Square Feet!

Notice To Heli Operators: Our system, helicopter equipment, helicopter banners, helicopter billboards, etc. require no licensing or franchising fees of any nature. Just the cost of the equipment!
Their Method: Sling Load Heli Copter Banner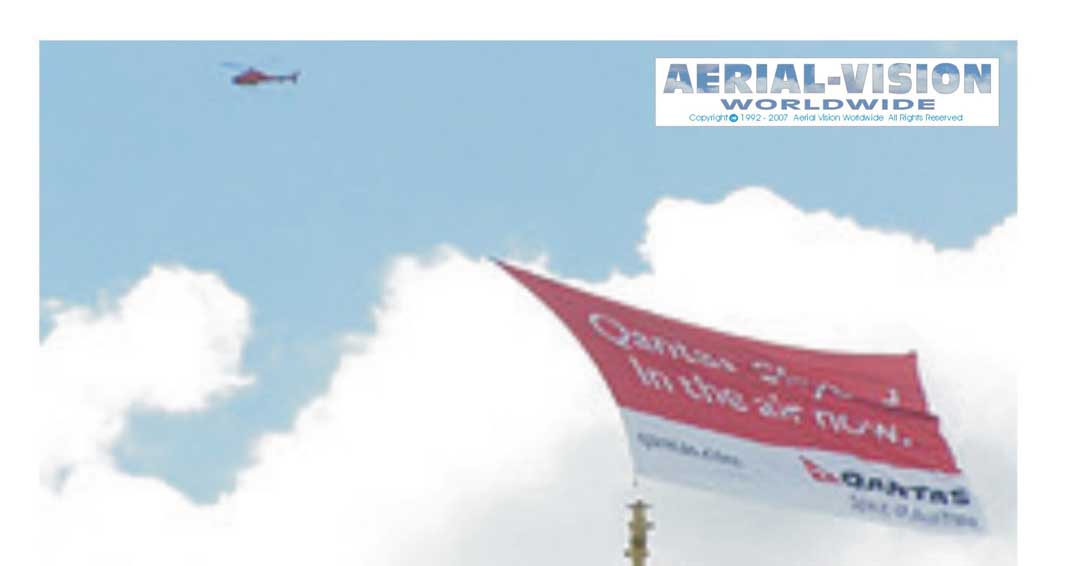 FACTS: Sling load heli copter towed banners were invented by skydivers. By dropping a heavy weight and line off their ankle after opening their canopy, a banner or flag is attached. These have no adjustability whatsoever, and fly however they want to fly. Sometimes horribly drooping in the top, back half. See our photo at left. After carefully researching and viewing sling load heli copter towed banners over the past few years, we have never seen a product that flies perfectly flat or crisp. Thus, reducing readability, impressions and customer satisfaction. EXPERIENCE: Estimated at 5 to 6 years maximum and 50-60 billboards produced worldwide, again an estimate. FORMATS: It is our opinion that sling load heli copter towed banners are limited as to shape, and size based on the "drooping factor" and non adjustability. Formats we have seen have only included 1 x 1 and maybe up to 1 x 2 maximum, we feel reducing creative capabilities. LAW: Laws vary from country to country and city to city. In some countries or cities, sling load helicopter banners, by law, can not fly over populated areas due to the weight involved regardless of their sling load safety features. They must travel, straight line to over water or unpopulated areas to begin advertising. Again, reducing impressions, etc. SAFETY: Sling load heli copter towed banners can require up to 500 pounds(226 kilos) of ballast attached to a 40-50 pound(18-22 kilo) cable beneath the heli copter. So far, up to 550 pounds(250 kilos), plus the weight of a 10,000 square foot(1,000 square meter) banner of up to 200 pounds(90 kilos). That could be up to over 750 pounds(340 kilos)!!!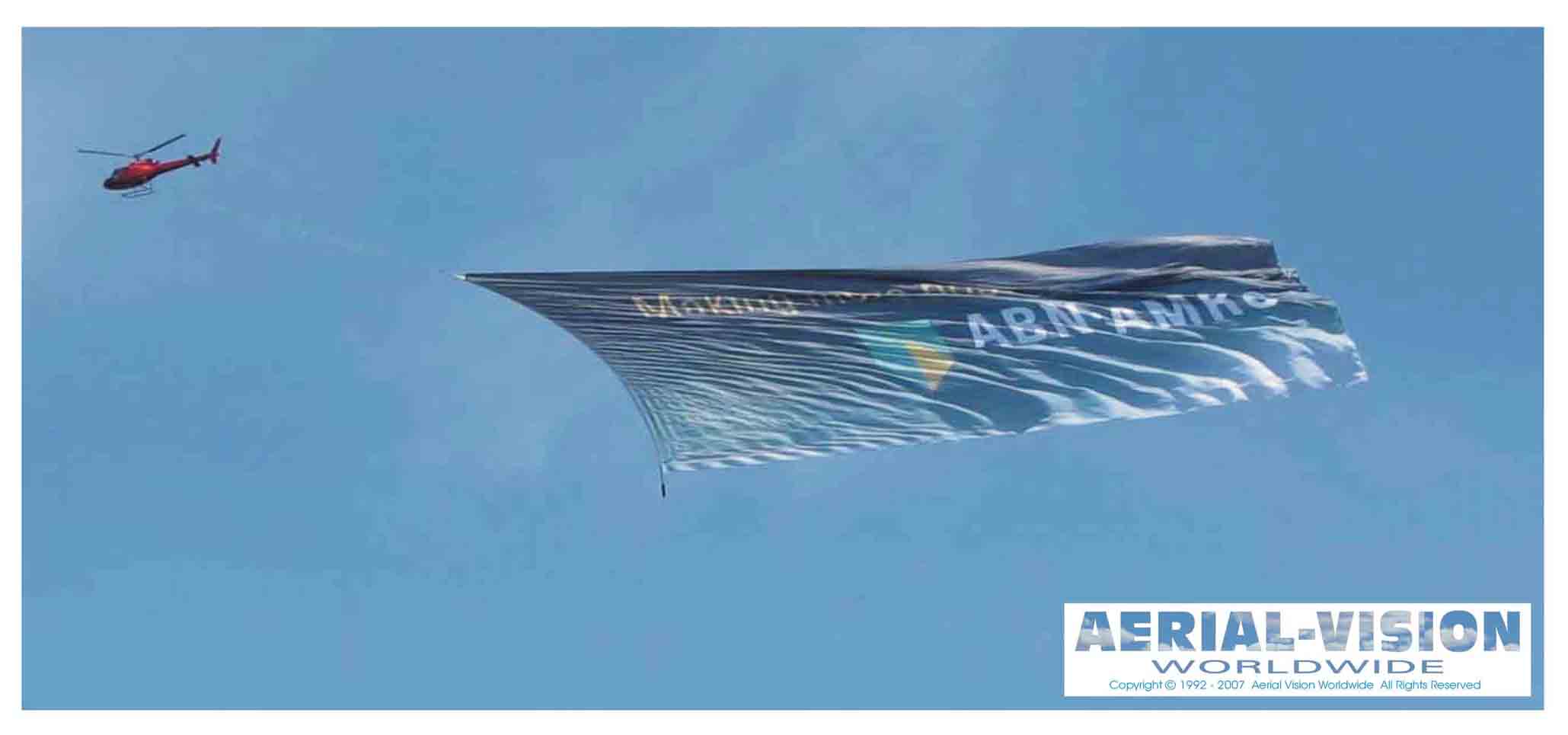 Our Method: Conventional Helicopter Banner Towing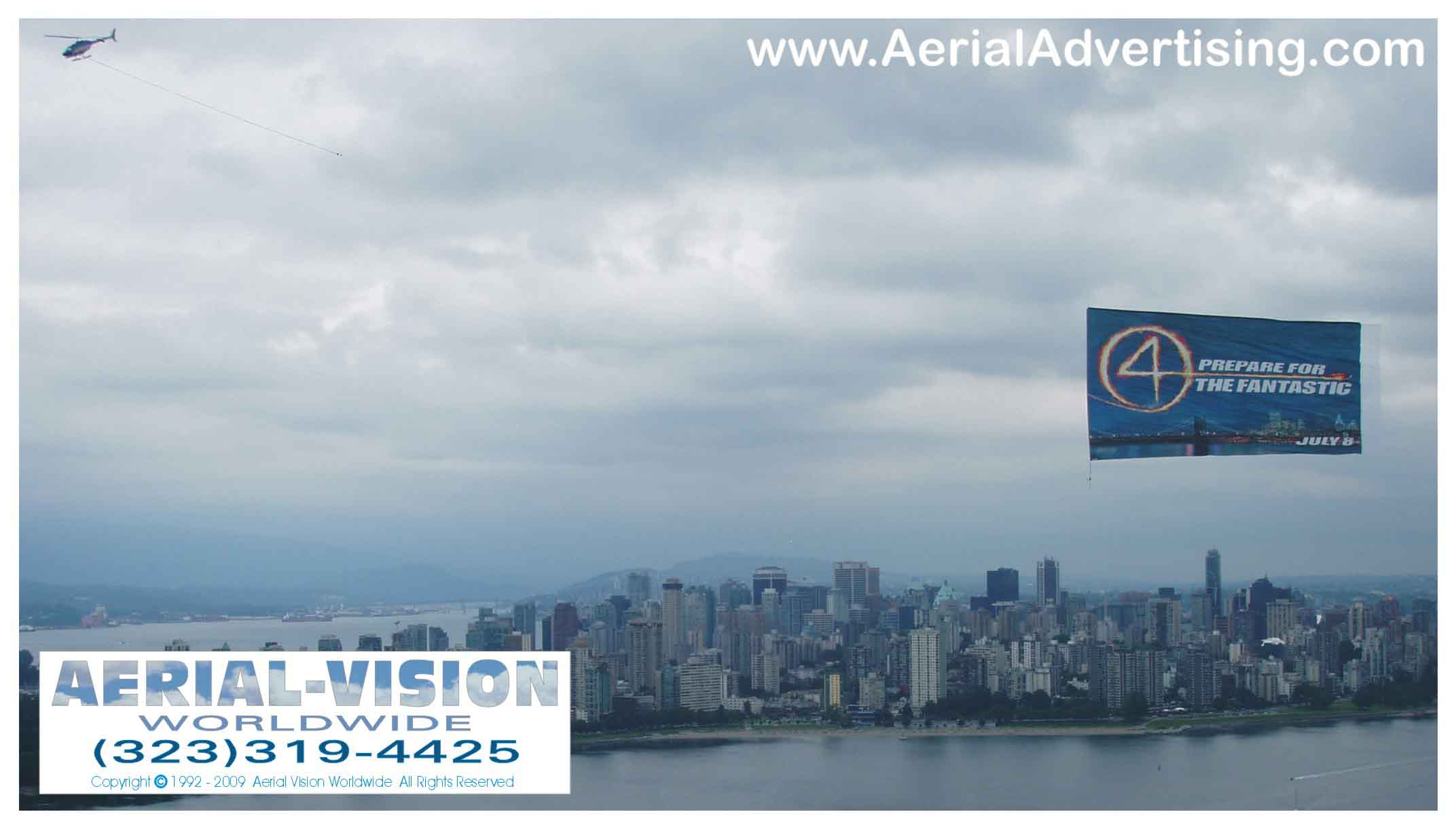 FACTS: Helicopter towed banners or billboards towed conventionally were invented by the U.S. Navy in the 1930's, just before World War II, used for target practice out at sea for fighter aircraft. EXPERIENCE: Two partners at Aerial Vision Worldwide have 16 years of "field" and "manufacturing" aerial billboard experience. Our chief pilot/partner has over 20 years experience flying banners with over 9,000 banner tow hours. Combined, we have produced well over 5,000 aerial banners or billboards, and have perfected the art of rigging a banner or billboard of any shape and size to fly perfectly, either behind a fixed wing aircraft as well as slower flying helicopters. Combined, we have "hands on" piloting and or field experience of an estimated 15,000+ successful banner & billboard flights and drops. Most of which have been photographed and or video taped. Hands down, the largest compilation of it's kind on earth. Estimates of conventional banner tow billboards ever produced in the world to date, we feel is somewhere in the 40,000+ range. FORMATS: The sky is the limit to our format capabilities. The years of experience in the field has allowed us to offer and perfect any size and shape including up to 1 x 20 or longer, while still maintaining flat, crisp, front to back readability. Changeable sections can be added in ANY portion of the billboard to allow you, the client, to reduce production costs and MAXimize your campaign dollar. LAW: There are very few laws at this time that limit where we can fly our style helicopter towed banners worldwide. Currently we are approved to fly over populated areas at the same altitudes, places, and times as fixed wing aircraft are allowed. Again, MAXimizing impressions for you and or your clients. SAFETY: Of the estimated 40,000+ conventional aerial billoards manufactured and flown since the late 1930's, of up to well over 200,000+ flights, to our knowledge, there is not one reported injury to a citizen on the ground from a conventionally towed aerial billboard. On our average helicopter towed banners of 10,000 square feet(1,000 square meters), we use a maximum of up to 11 pounds(5 kilos) of ballast. Our tow ropes weigh less than 8 pounds(4 kilos). Our state of the art flight cloth weighs about 90 pounds(40 kilos) for a 10,000 square foot(1,000 square meter) banner. 10,000 square foot(1,000 square meter) billboard total setup weighs approximately 110 pounds(50 kilos)...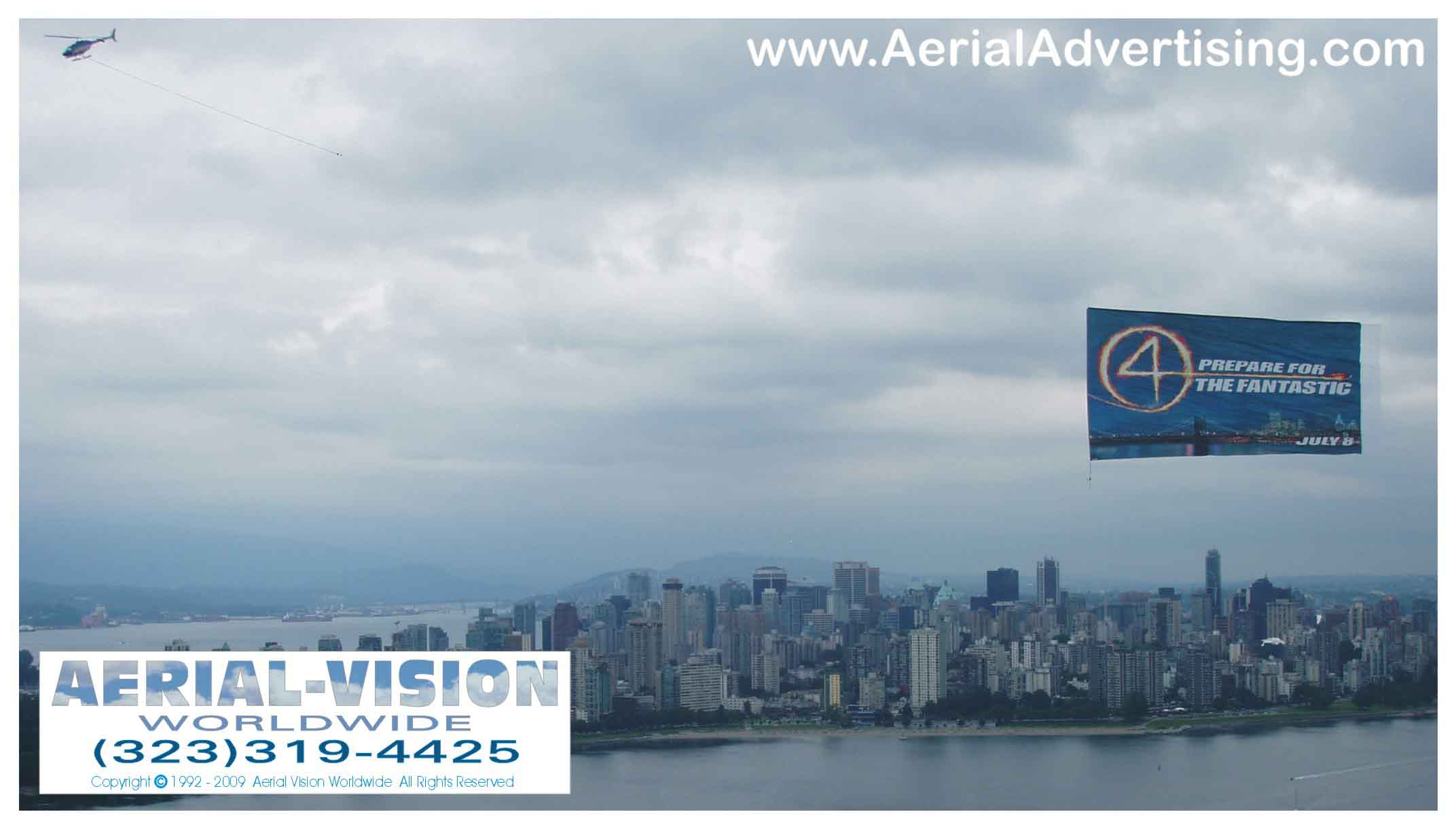 75' x 147' Helicopter Banner = 11,025 square feet (1,029 sq. m.)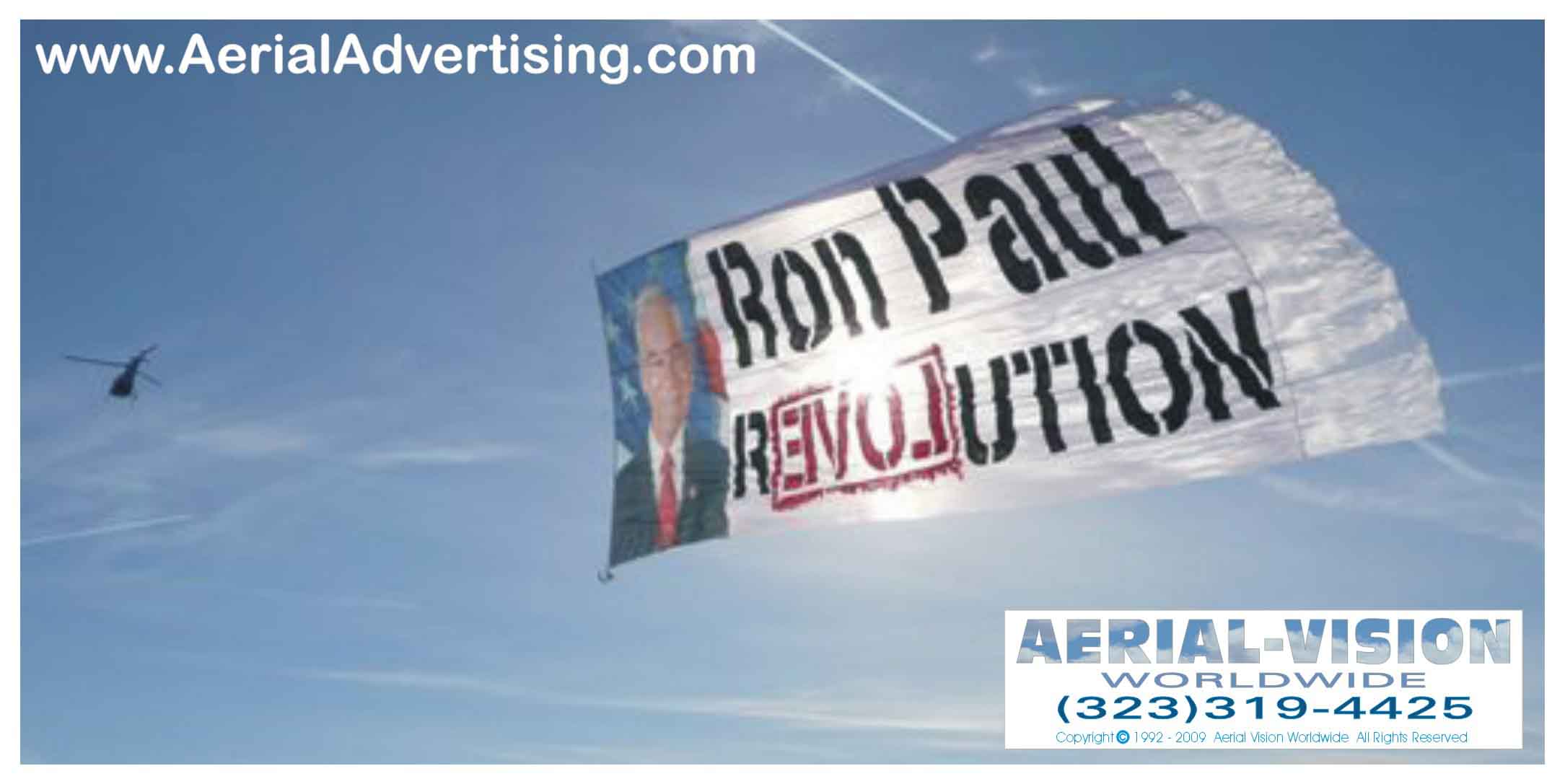 60' x 180' Helicopter Banner = 10,800 square feet (1,008 sq. m.)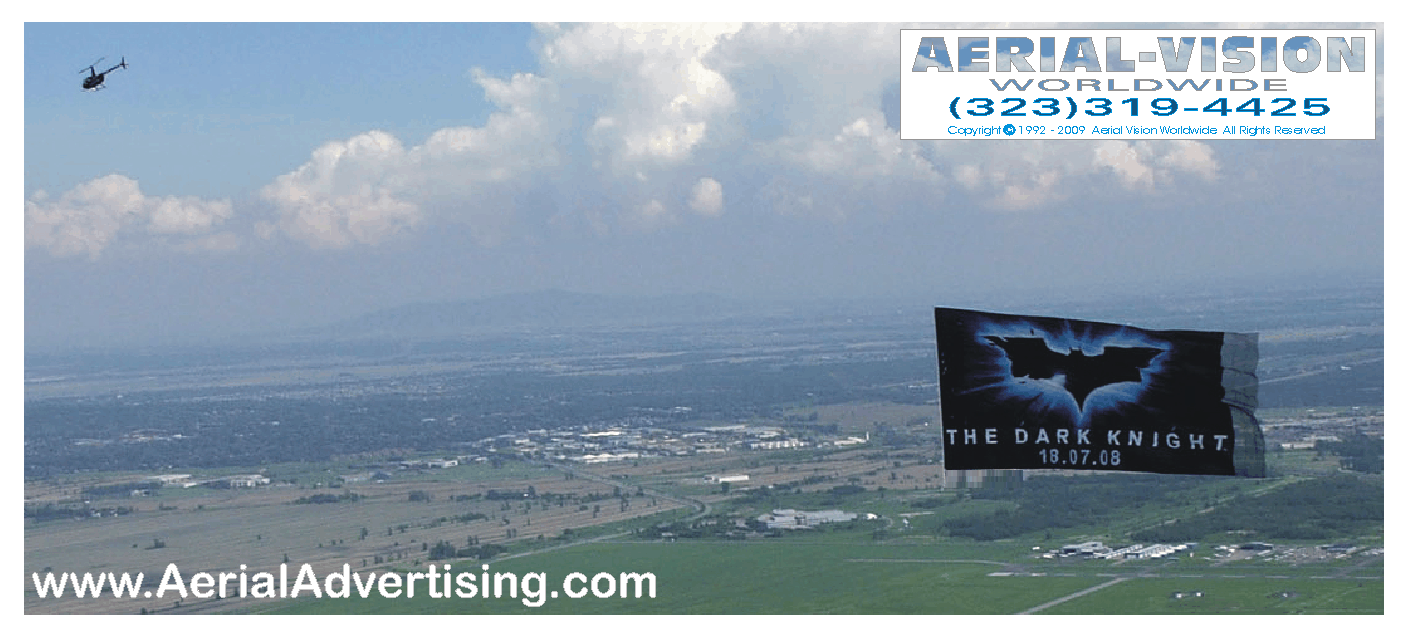 75' x 120' Helicopter Banner = 9,000 square feet (840 sq. m.)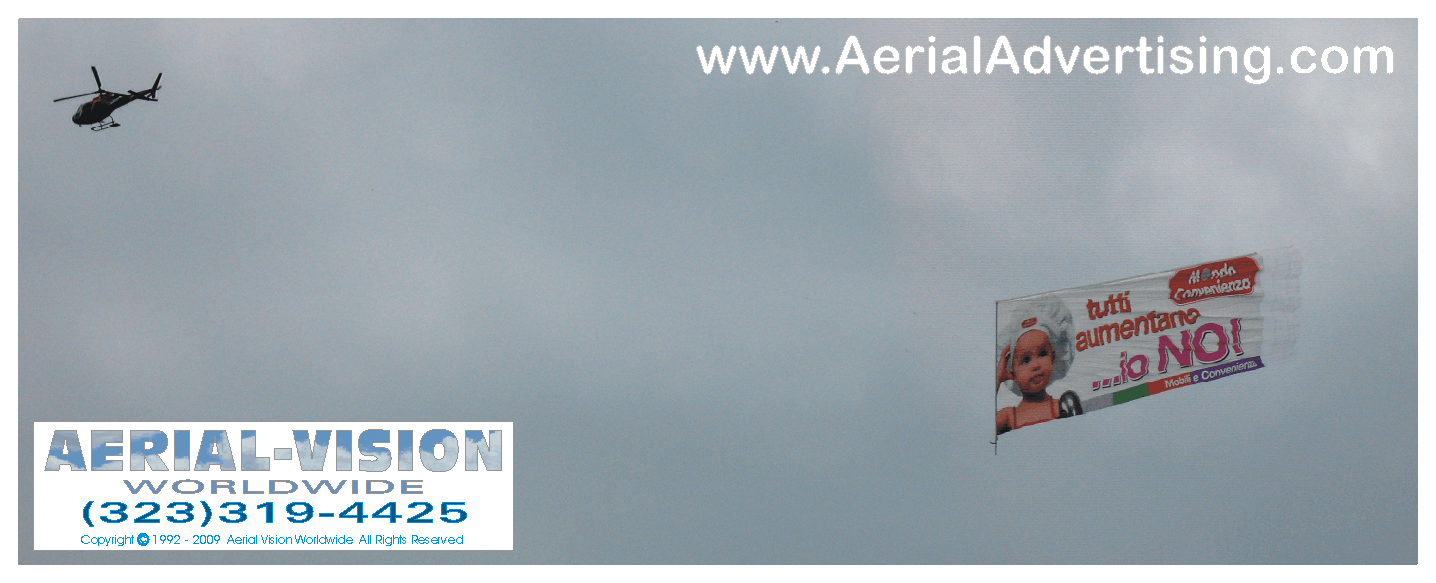 50' x 160' Helicopter Banner = 8,000 square feet (747 sq. m.)
Helicopter Banner Production Facility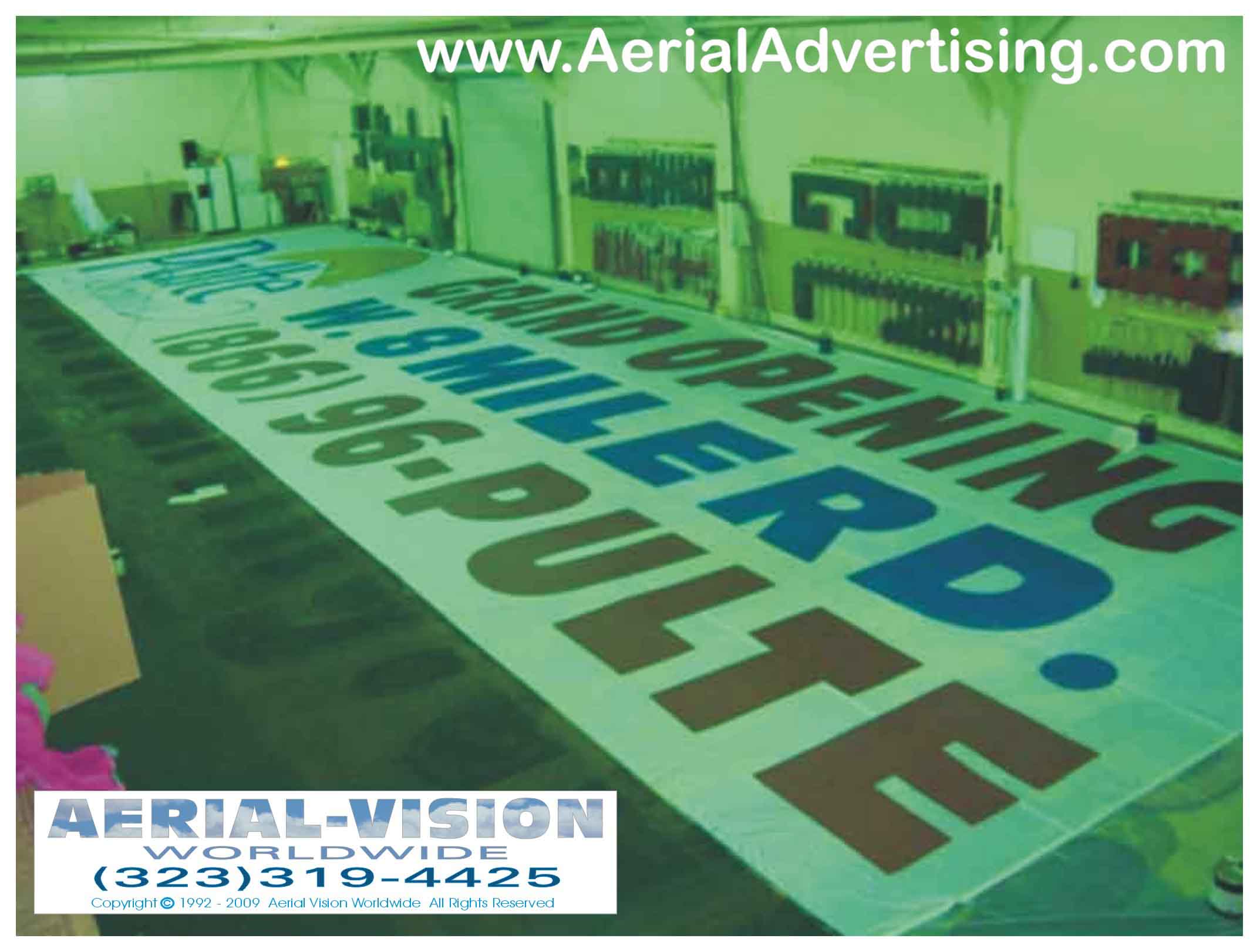 We here at Aerial Vision Worldwide have perfected the art of manufacturing slow flying helicopter banners as well as fixed wing airplane billboards. With 16 years of experience in production of these billboards, we set the standard in the industry. We make the best flying, most crisp, smoothest, most readable and most importantly, a product with an impeccable, proven safety record(see above). Approved to tow over land or sea in most cities and countries worldwide, our helicopter towed banners as well as our fixed wing aircraft billboards, use only up to 11 pounds(5 kilos) of ballast vs. a sling loads 400-500 pounds(180-225 kilos). You make the choice! Our production facility is based just north of San Francisco, California. You and or your clients are welcome to come tour our 8,000 square foot production facility either in person or via our 24 hour streaming shop cam, as well as watch your billboard being produced in real time.

Helicopter Banner Flight Operations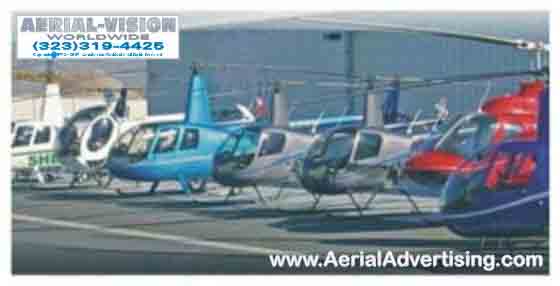 We use the world's best and most reliable helicopters & pilots to execute our helicopter banner towing. We provide unmatched service in the industry. We provide a more than qualified ground handler with your billboard for the duration of the campaign. This is an absolute must for our clients when executing these monstrous billboards. Providing photos and video of all launches and landings with time/date stamp technology as well as offer live GPS tracking. MAXimize your campaign with Aerial Vision Worldwide...
Nationwide & Worldwide Helicopter Banners & Aerial Advertising Services.
Single Or Multi Market Helicopter Banner Campaings.
Helicopter Banner Towing Equipment & Training.
Aerial Advertising or Helicopter Banner Towing Business Startup & Help.
Helicopter Banner Towing Aerial Advertising Campaigns.
Full Service Helicopter Banner Campaign Management.
States We Provide Aerial Advertising or Helicopter Banner Towing In:
ALABAMA, ALASKA, ARIZONA, ARKANSAS, CALIFORNIA, COLORADO, CONNECTICUT, DELEWARE, FLORIDA, GEORGIA, IDAHO, ILLINOISE, INDIANA, IOWA, KANSAS, KENTUCY, LOUISIANA, MAINE, MARYLAND, MASSACHUSETTES, MICHIGAN, MINNESOTA, MISSISSIPPI, MISSOURI, MONTANA, NEBRASKA, NEVADA, NEW HAMPSHIRE, NEW JERSEY, NEW MEXICO, NEW YORK, NORTH CAROLINA, NORTH DAKOTA, OHIO, OKLAHOMA, OREGON, PENNSYLVANIA, RHODE ISLAND, SOUTH CAROLINA, SOUTH DAKOTA, TENNESSEE, TEXAS, ,UTAH, VERMONT, VIRGINIA, WASHINGTON, WEST VIRGINIA, WISCONSIN, WYOMING
Major Cities & DMA's We Provide Aerial Advertising & Helicopter Banner Towing In:
Los Angeles, San Diego, San Francisco, Sacramento, Portland, Eugene, Seattle, Las Vegas, Reno, Phoenix, Boise, Salt Lake City, Denver, Dallas, Austin, Houston, Kansas City, Minneapolis, Cedar Rapids, St. Louis, Madison, Memphis, Chicago, New Orleans, Lansing, Detroit, Nashville, Montgomery, Louisville, Cincinnati, Knoxville, Toledo, Columbus, Atlanta, Talahassee, Cleveland, St. Petersburg, Pittsburg, Charlotte, Orlando, Tampa, Miami, Daytona Beach, Baltimore, Philadelphia, New York , Atlantic City, Virginia Beach, Boston, Providence
heli


heli
Aerial Advertising Payment Options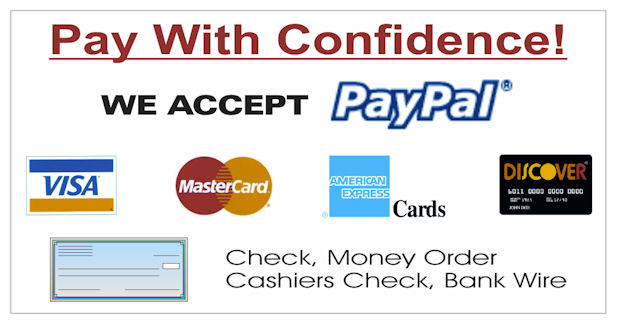 Accepted For Aerial Advertising, Aerial Billboards or Banner Towing Equipment
Aerial Advertising Experts!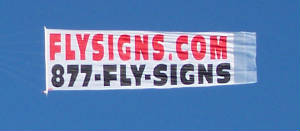 Aerial Advertising Aerial Billboard 25' x 80'
Copyright © 1992 - 2019 FlySigns Aerial Advertising & AdvertisingAerial.com

Reproduction in whole or in part in any form or medium without expressed written permission of FlySigns Aerial Advertising & AdvertisingAerial.com is prohibited. All rights reserved.